At Barcelonesa we are more than just a supplier or chemical specialist.
At Barcelonesa we believe that only by establishing solid and lasting relationships will we be able to grow and advance as a company, people and society. For this reason our ourpose is to collaborate closely with our customers and partners to guarantee chemical solutions that maximize efficiency, reliability, response and sustainability in all sectors of activity.
For us, the key to success is to integrate ourselves into the reality of your company, establishing a solid and lasting relationship, working hand in hand with your team, and collaborating with each stakeholder. That is our formula to guarantee chemical solutions that maximize efficiency, reliability, responsiveness and sustainability. A formula that already helps more than 2,000 customers in over 50 countries.
Find out more about us and our history. 
Our history is part of our DNA and makes us who we are. Our history begins with Enric Collell Aguilà, our founder. Surely not even he imagined what "la Barcelonesa" will end up being.
Enjoy the journey through the most important moments of our journey in the chemical industry up to the present day. Let's get started!
1942
Barcelonese foundation.

In 1942 Barcelonesa, a limited partnership between Collell, Marcos and Mussons, was founded.

They set up in humble facilities of 100 m² in the heart of Barcelona city centre to provide service to workshops and small industry in the city of Barcelona.

In the middle of the autarchy, chemical products were scarce and Barcelonesa helped its customers to function with its products.

1959
We move to a new, larger facility

We are moving to new, larger facilities in l'Hospitalet (Barcelona) with a surface area of 1000 m².

The new space allowed Barcelonesa to continue growing slowly but surely.

1977
Purchase of Canals & Llaudís distributor

The purchase of the distributor Canals & Llaudís, dedicated mainly to the caustic soda business, takes place.

In the same year, we moved to Cornellá de Llobregat (Barcelona), facilities of more than 6,000 m².

1992
We built our facilities in Cornellá

In 1992 new 20,600 m² plant and central offices in Cornellà de Llobregat (Barcelona). We grow slowly but steadily, obtaining important Quality Seals for the work of the entire Barcelonesa team.

2004
Acquisition of Barnastock and BDtrans. Consolidation of the Barcelonesa Group.

We take another big step that consolidates our position in the sector. Barcelonesa acquires the Barnastock group, increasing its product management capacity by 26,000 m² and adding a team specialized in logistics.

2005
Acquisition of Euronitro

Barcelonesa acquires EURONITRO, SA, a distributor of organic chemicals and specialities, thus completing its presence in the wide range of chemical raw materials for any industry.

2011
We set up our subsidiary Barcelonesa Portugal.

We set up our subsidiary in Portugal to expand throughout the Iberian Peninsula. We currently have our own warehouse which allows us to cover the area of Portugal and Galicia. 

2015
We set up our subsidiary Barcelonesa Algerie

We set up our subsidiary in Algeria for the expansion in North Africa. We have a warehouse near Algiers.

2020
We set up our subsidiary Barcelonesa France.

We set up our subsidiary in France to cover the southern part of Europe. 
Find out the main indicators of our activity during the year 2020. 
years of experience in our sector are our guarantee.
Professionals to provide you solutions.
Tonnes of product handled per year.
References of products, qualities and origins.
Countries where we generate business.
Find out where we are present and where we have customers and suppliers who trust us to offer them the best service. 
From its headquarters in Barcelona, the most important logistics center in southern Europe, and through its logistics platforms strategically located in the Iberian Peninsula, Algeria and France, Barcelonesa offers the best solutions for the needs of companies and industries of all production sectors.
Furthermore, and continuing with the internationalisation of Barcelonesa's commercial presence, we also have commercial representation in countries such as the United States, the Dominican Republic, Italy, India and Japan: United States, Dominican Republic, Italy, India or Japan as well as the delegations established in Algeria, France and Portugal. We also have Commercial Agents in Peru and South Korea. 
Purchasing and Sales Areas
Barcelonesa seeks and finds the most suitable raw materials from the best sources for each sector of activity in the main international markets. We work closely with customers and suppliers to transport and store their products in the most suitable means, with the maximum levels of security, and deliver them at the agreed time anywhere in the world.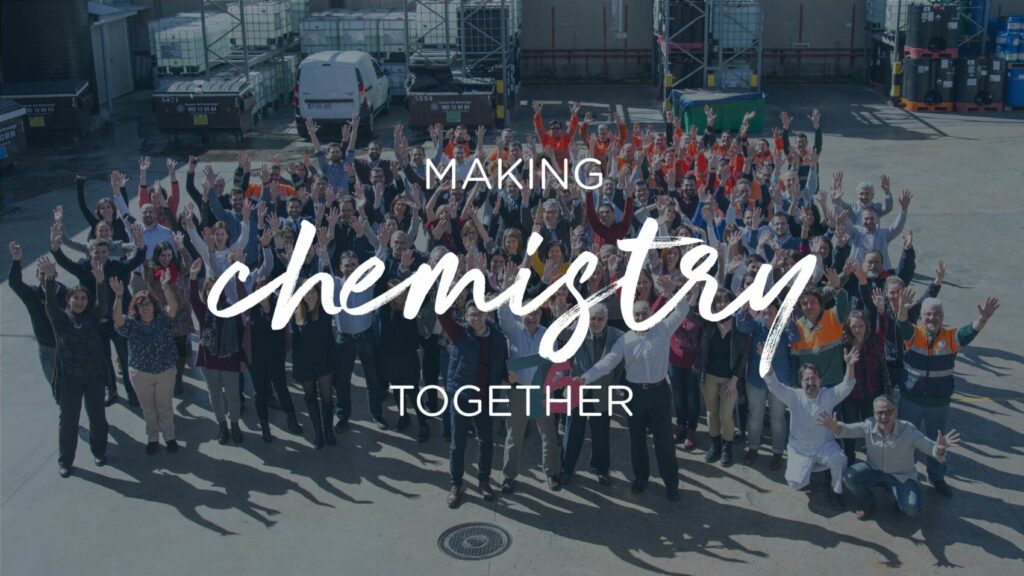 These are the principles that guide us in our day-to-day work as a company and that reflect who we are with our customers and suppliers.
Professionalism: We get involved in your business with the ultimate commitment to always offer you the best result.
Agility: We adapt to changes and resolve them quickly to provide you with the solution that best suits your needs.
Closeness: We work hand in hand with you to build solid and trustworthy relationships.
If you want to know more about our values and culture, check our "work with us" page.
We know that these are chemical reactions that are triggered in our brain and that require balance, a perfect balance.
At Barcelonesa we seek that balance. We know about chemistry and we co-create emotions, that's why we work on knowing and offering the right elements so that our customers' formula is perfect.
This is the only way to achieve good chemistry, together. Because the balance of chemistry is in each of us, as humans, as essence.