Agrochemistry


Everything the agrochemical industry needs with certified quality.
Agriculture is one of the oldest productive sectors in the world that today faces great challenges. The increase in population, global trade and concern for the environment and the quality of products by consumers are some of them.
In the Agro Division of Barcelonesa we offer you a wide range of raw materials and specialties for the manufacture of agricultural inputs such as fertilizers, deficiency correctors and fertilisers. We have our own team of experts who can advise you on the most efficient combination of ingredients.
There is no doubt that the demand for a more ecological and environmentally friendly agriculture is a trend. At Barcelonesa we are aware and for this reason, we are incorporating increasingly sustainable products to our portfolio that preserve soil fertility and are environmentally friendly, complying with current regulations.
Our experience, knowledge of the products and their application, allows us to offer highly profitable technical solutions adapted to your needs.
Our technical team helps you in the formulation of new and specific products, proposing the most efficient combination of ingredients.
Packaging and customized production
Manufacturing and packaging is carried out in our facilities, according to the customer's needs, under the strict quality control of our laboratory
Advice on ecological certifications
We are working to achieve increasingly sustainable products and we advise you on the ecological certification process for your products.
Get advice on the product you need from our experts.
Nutrients, agronutrients or fertilizers are classified according to the amount used by the plant and the frequency with which its contribution to the crop its necessary. According to this criterion we can distinguish:
These are nutritional elements absorbed by plants in larger quantities.This group includes nitrogen (N), phosphorus (P), potassium (K), sulphur (S), calcium (Ca) and magnesium (Mg). According to their frequency of application in crops, they are divided into primary macroelements (N, P y K) and secondary macroelements (S, Ca y Mg).
These are nutritional elements absorbed by plants in smaller quantities, including iron (Fe), copper (Cu), zinc (Zn), manganese, (Mn), molybdenum (Mo) and boron (B).
Our extensive portfolio includes all these raw agrochemical materials needed to create fertilizers and deficiency correctors, either for use in the soil or in foliar fertilizers.
These elements can be provided in the shape of different inorganic chemical salts (sulphates, phosphates, nitrates, carbonates, chelates, etc.) and organic salts (acetates, formates, propionates, etc.), offering a wide range of combinations of simple salts depending on the intended use.
We also have a wide range of specialties developed for the manufacture of fertilizers. Our technical team specialized in applications will be able to recommend those that best suit your needs.
Biostimulants and amino acids

Amino acid of Animal Origin
Amino acid of vegetable origin
Seaweed extract (Ascophyllum Nodosum)
Other amino acids such as Betaine, Lysine, Glycine or Monosodium Glutamate.

Liquid boron: product manufactured by Barcelonesa under our own Reach

registr

ation

.
Dyes, pigments and dispersions
Chelating and complexing agents: edta, heptagluconate or lignosulphonate.
Liquid chelated metals.
Surfactants: wetting agents, dispersants, emulsifiers.
Thickeners, anti-caking and anti-foaming agents.
Basic substances.
Biostimulants and Amino Acids
Biostimulants are inputs intended to increase profitability and agricultural productivity.
The regular use of biostimulants has the effect of improving the quality of agricultural products, making them healthier and more affordable, as well as contributing to greater sustainability of the agricultural sector in general.
We manufacture liquid boron complexed with ethanolamine in our own production plant. The boron content is 11% w/w.
The product can be used in organic farming according to EC regulation 834/2007, 889/2008. Ecocert Control SA F-32600
Colourants, Pigments and Dispersions
At Barcelonesa we work with a range of colorants for the manufacture of NPK and crystalline fertilizers (solids and liquids), phytosanitary products and seeds.
If you want to know more about our products, contact us.
Chelating and complexing agents
Range of chelating and complexing agents to stabilize metals:
Gluconic acid (sodium gluconate)
EDTA acid
EDTA 4-H tetrasodium salt
EDTA 4-H
Aluminium lignosulphonate
Calcium lignosulphonate
Sodium lignosulphonate
Monoethanolamine
Sodium heptagluconate
100% chelated micronutrients in liquid form, manufactured in Europe under the BD Micro range. Our BD Micro range can be tailored to your needs. We design your own custom mix combining the % of metals you need to obtain optimal results.
DTPA-Fe 6%
EDTA-Co 7%
EDTA-Cu 9%
EDTA-Fe 7,5%
EDTA-Mg 3%
EDTA-Mn 6%
EDTA-Zn 9%
Tailor-made
The use of surfactants in the agricultural sector reduces the amount of phytosanitary products required and enhances the effect of growth regulators, biostimulants, fertilizers and deficiency correctors. We have a wide range of surfactants that meet various functionalities: Emulsifiers, wetting agents, and dispersants.

Thickeners, Anti-caking and Anti-foaming agents.
Thickeners: Xanthan gum, CMC and sodium alginate, among others.
Antifoaming agents: Silicone and organic oil based antifoaming agents (Antiskum range).
Anti-caking agents: Naphthalenesulphonates and sodium tripolyphosphate, among others.
These are substances with main uses in other areas/applications, and that secondarily have certain approved phytosanitary uses in agriculture.
Product usable in organic farming according to the European Community Regulation.
Ecological and Sustainable Inputs
We know that sometimes the criteria by which a certain product could be considered organic can be somewhat complex. This is mainly due to the lack of unity in the market that governs the regulations. Our Agro division advises you on the use of the that comply with current regulations. This way, you can be sure that your formulations will end up complying with current regulations. In addition, we provide you with the necessary documentation for our products so that your inputs are declared organic inputs and you get the certification.
Solutions with the best chemistry
We are chemists with more than 70 years of experience in the sector. In our facilities located in different parts of the peninsula, with a capacity of 70,000 m2 of palletized product storaged and 14,000 m3 of liquid product in tanks. We have a human team of more than 200 people who offer a fast and efficient service so that our customers have the best quality products.
We have our own laboratory and we apply rigorous and strict quality controls in all our processes. Our product portfolio is constantly evolving, in order to find solutions that respond to your needs and the new trends demanded by the market.
Looking for a specific product?
Through our easyB platform, you can see all the products we have available, download documentation and much more.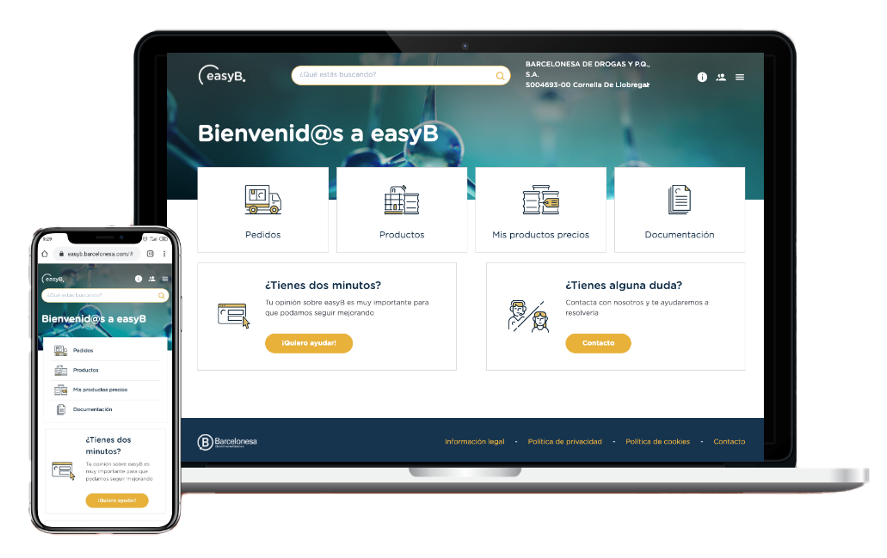 Certifications that guarantee that we comply with the highest quality standards in terms of products, services and management.

How can I help you?
Carme García
Sector Manager