Crude oil is undoubtedly one of the most important natural resources in the world. At Barcelonesa we are aware of this and that is why we provide you with specific, custom-designed products that help to solve the challenges faced by the oil industry.
Furthermore, experience has taught us that using the right additive is not everything. That's why our team of experts is at your disposal for technical and custom advice.
Get advice on the product you need from our team of specialists.
Broad technical knowledge and support for the chemical solution you need
All our products are specially designed to measure.
Our technical team studies the physico-chemical characterisation of the crude oil and all the surface equipment involved in the dehydration process to develop products strictly adjusted to the needs of each field or installation.
Our technical department will provide on-site support to study your needs and make the necessary adaptations.
In oil production, there is one challenge facing the oil industry in almost all crudes: oil/water emulsion.
Demulsifiers belong to the group of specialties for crude oil; they are mixtures of various chemical families (resins, polyols, di-epoxides, etc.) that are designed to decrease the surface tension that sustains the crude water mixture (W/O emulsion) achieving the breaking of emulsions by achieving an efficient separation between water-oil phases; achieving the sales specifications required by our customers.
Asphaltene Dispersants/Inhibitors
Corresponds to mixtures of various chemicals such as resins, dodecyl benzene sulphonic acid (derivatives and mixtures) responsible for inhibiting the flocculation of asphaltene particles in oil production, to prevent blockages, partial or complete plugging in pipes, surface equipment; in some cases the precipitation of asphaltenes can occur in the reservoir in the producing sand, restricting the flow of crude oil, with clear consequences of decrease / loss of production and damage to the reservoir.
The most frequent causes of asphaltene precipitation are pressure and/or temperature variations.
Looking for a specific product?
Through our easyB platform, you can see all the products we have available, download documentation and much more.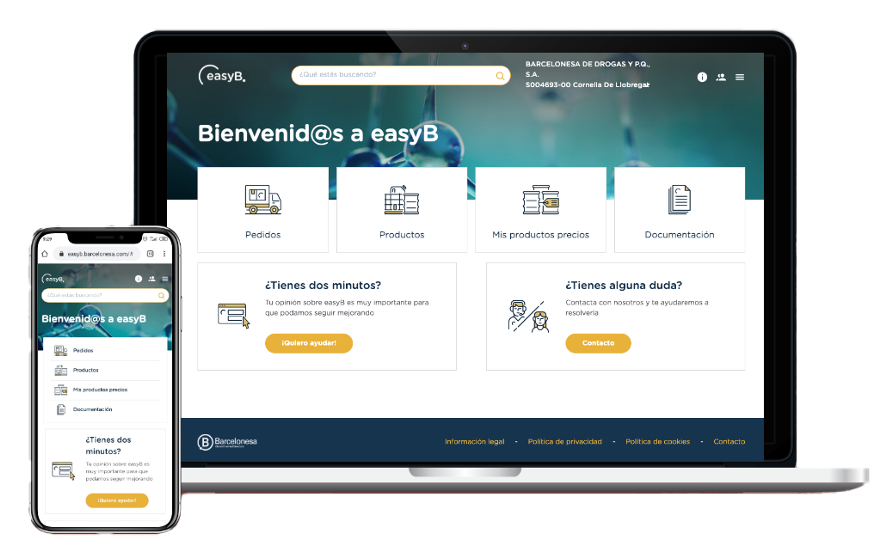 Certifications that guarantee that we comply with the highest quality standards in terms of products, services and management.

How can I help you?
Jordi Pérez
Sector Manager