Trends, trends and more trends. If there is one thing that defines the cosmetics industry, it is that it is evolving at a dizzying speed. To meet current consumer demands you have to reinvent yourself on a daily basis, and we know that when it comes to finding ingredients for a specific formulation, there are a lot of components to keep in mind: reliability of the source, product shelf life, product quality, regulatory issues, etc.
At Barcelonesa, we make your life easier. We feature a wide range of basic raw materials and solutions for colour cosmetics, skincare, hygiene products, hair care, etc. Additionally, we work with international partners that are continuously innovating and launching new products in line with current market trends. Therefore, we can advise you in your search for ingredients, or suggest alternatives to products you are currently using but need to be replaced to achieve your desired formulation.
Wide range
of ingredients
We work to develop our portfolio and offer you a wide range of ingredients and solutions, both for distribution and own brand.
Quality ingredients make a difference in a cosmetic formula. We work to guarantee you the most demanding requirements.
We listen to you to propose alternatives to ingredients you are already using and you need to replace until you get the cosmetic formula you want.
We look for new ingredients
We love challenges. Tell us which ingredient you are looking for or are interested in for your cosmetic formula, and we will look for it for you.
We know our work directly impacts people's quality of life, which is why we work with you on a one to one basis, supplying you with the ingredients you need to ensure the successful development of your cosmetic products.
Do you want to know more about us? contact us!
Haven't found the cosmetic ingredient you were looking for?
Ask us!
Get an immediate quotation for the product you need
Active ingredients feature highly diverse properties and are essential to achieve greater efficacy in the formulation of your cosmetic products. We offer active ingredients that can be used in both water- based and oil-based applications, offering greater functionality to your formula.
Our active ingredients are plant-based, synthetic, animal-derived or biotechnological, depending on your formulation.
Anti-acne
Anti-ageing
Antioxidant
Moisturising
Soothing
Regenerative
Reparing
Whitening/Brightening
Anti-cellulite
Exfoliants
Slimming
Self-tanners
SPF boosters
Sunscreens
Pigments and encapsulated ingredients
Want to create a cosmetic where the colour is the protagonist? Then pigments are what you are looking for.
At Barcelonesa, we work with a wide range of pigments using mica, synthetic mica, silicate, bismuth oxychloride, aluminium, pigments coated with a high percentage of silver, etc. that will help you achieve the desired effect in your colour cosmetics. Among others, we offer pigments predispersed in natural oil that are ready to be used so you can easily include it in your formula and achieve a homogeneous result.
We also have functional encapsulated pigments and encapsulated agents that offer greater efficiency or allow formulation with non-compatible ingredients. Our aesthetic encapsulates offer extensive possibilities to formulate aesthetically appealing cosmetics.
Pearling agents
Soft-focus
Fillers
Predispersed pigments
Encapsulated pigments
Dream Beads
Dream Petals
The cosmetics sector has undergone a transformation in recent years, evolving towards greener products. You can achieve a green, sustainable, and organic formulation for your cosmetic or personal care products with our plant-based oils and butters. We work with many traditional oils as well as exotic oils from all over the globe.
Furthermore, some of our oils come from local farmers, so together we contribute to corporate social responsibility projects collaborating with small farmers and their communities.
Plant-based oils and butters
Essential oils (DOP)
Surfactants are widely used in the cosmetics industry as ingredients in shampoos and conditioners thanks to their moisturizing, lathering, and emulsifying properties.  
Here at Barcelonesa, we have been distributing surfactants for over 25 years. This has given us with necessary experience and knowledge of both the products and their composition and application. We offer a wide range of surfactants under our own Bartensid brand, sourced from various international partners. We guarantee total traceability with the origin of the product and the composition of the surfactant. We can also provide you with concentrated bases or suggest alternatives to a surfactant you currently use to help you obtain certifications such as Ecocert (European Organic Certification) or COSMOS (COSMetic Organic Standard), ensuring that our surfactant meets the certification requirements. 
Our experience has taught us that choosing the right surfactant is not an easy task. Which is why we truly understand your needs when offering you the ingredients that best fit the result you are seeking for your cosmetic formula.
We present our range of surfactants for Cosmetics. If you want to know more, check our list of products or ask us.

Nonionic Surfactants
Anionic Surfactants
Amphoteric Surfactants
Cationic Surfactants
100% natural surfactants
Sulfate-free surfactants
Oxyethylene-free surfactants
Esters
Liposoluble extracts (CO2 supercritical)
Supercritical CO2 extracts are trending in cosmetics due to their superior benefits compared to other extracts obtained with other type of solvents (such as glycerine or alcohol, for example). At Barcelonesa, we distribute 100% natural fat-soluble extracts that are free from chemical solvents and additives. The selective extracts will enable you to use them in natural, perfume-free formulas.
We collaborate hand in hand with our expert partner in supercritical CO2 extraction technology and with extensive know-how about plants, to offer you the highest quality ingredients. Our ingredients are dermatologically tested so you can incorporate them into your cosmetic products such as anti-ageing creams, soothing creams, or moisturizing cosmetic products for all skin types, even the most sensitive types.
You will contribute to protect the environment, reducing our environmental footprint, and you will be collaborating too with socially responsible projects with a focus on circular economy.
Selective extracts
Total extracts
Co-extracts
Customized extracts
Plant extracts contain active substances that provide well-known properties to the skin. The type of extract choosen will depend on the type of application in the formula and the regulatory or quality requirements that they have to fulfill (ISO 16128, COSMOS, etc). Our range of extracts includes the following families: 
Hydroalcoholic extracts
Hydroglycolic extracts 
Dry extracts
Glycerin extracts
Standardised extracts
Emollient and Emulsifiers agents
Emollient agents and emulsifiers are two basic components in any stable cream or lotion that is pleasant to the touch. Emulsifiers allow compatibility between ingredients while emollients give your formula the desired texture and hydration on the skin. 
Our portfolio synthetic ingredients and derivatives of renewable raw materials coexist that can be complemented to achieve more effective and safe cosmetics.
Conditioners
Moisturizers
Emulsifiers O/W
Solubilizing agents
Emulsifiers W/O
Hair Oxidizing Agents and Colouring Agents
Oxidizing agents facilitate the chemical reaction that is required to strip hair of its colour.
At Barcelonesa, we've been dedicated to the chemical industry since 1942. Our experience in raw materials distribution has given us an excellent position in terms of products like persulfate salts or oxygenated water, which are ideal for achieving highly effective oxidation.
Bleaching agents
Oxidation dyes
In recent years we have seen a change in trends also promoted by regulatory changes. Despite this, silicones are still used in practically all cosmetic products: make-up bases, mascara, creams, hair products, etc., as these providing smoothness and uniformity to the hair or skin. Our range of silicones includes both water-soluble silicones and mildly soluble and insoluble silicones
Applications for hair
Applications for skin
Rheology modifiers, also known as thickeners or viscosity modifiers, do much more than just thicken a cosmetic product. They help us give a the desired consistency to our formulation, thereby achieving the product's desired effect.
Our range of rheology modifiers provides formulations with a quality structure, enabling the end result to be adapted to the client's needs.
Emulsion stabilizers
Gelling agents
Suspending agents
Thickening agents
At Barcelonesa, we are a team of professionals that has been collaborating with first-tier suppliers and manufacturers since 1942. Our experience as distributors allow us to connect cosmetic manufacturers and formulators with the most appropriate solution.
Our range of basic ingredients for cosmetics can be used in colour cosmetics, skincare, hygiene products, hair care, etc.
pH regulators
Film formers
Bulking agents
Denaturing agent
Anti-caking agent
Chelating agent
Plasticizer
Other
Looking for a specific product?
Through our easyB platform, you can see all the products we have available, download documentation and much more.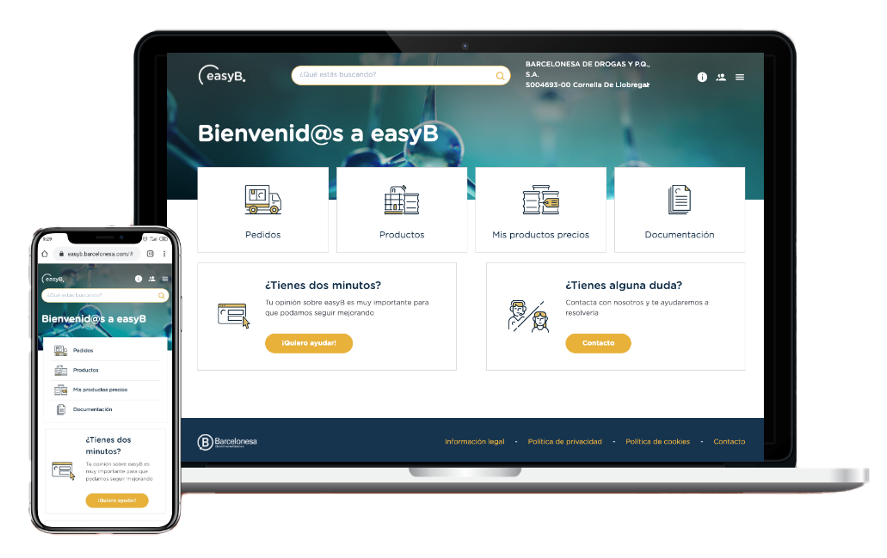 Certifications that guarantee that we comply with the highest quality standards in terms of products, services and management.

How can I help you?
Juan Carlos Montoro
Sector Manager