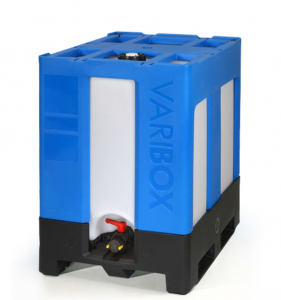 1000 litre container Varibox model
Safe and lasting ADR-approved IBC for the transport and storage of hazardous liquids.
It has been developed with a reinforced design special for an intensive use. The VARIBOX offers high chemical resistance and long-term service. The quality and output of its service equipment, such as its automatic vents and robust drain valve allow safe handling of your chemicals, carrying after carrying.
The VARIBOX also stands out for its optimal emptying. This minimizes chemical waste and residues.
By choosing the VARIBOX solution, you are promoting sustainability. The result will be a dramatic improvement in your company's carbon footprint and a considerable reduction of the amount of packaging waste to be destroyed.
Download the complete packaging catalogue